BUSINESS
4 WAYS TO DRAW RICHES THROUGH PASSIVE INCOME IN 2021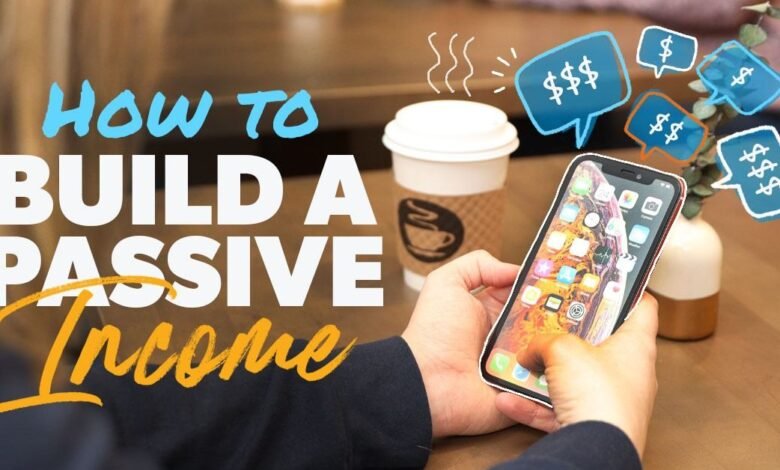 What passive income is?
Passive income is money that you earn without having to do a lot of "active" work to keep it coming in. In essence, you can earn money by doing the majority of the work upfront and putting in some extra effort along the way.
If you produce an online course, for example, you only need to update the content to keep the money coming in.
You've most likely heard the phrase "earn money while you sleep." That is the most compelling reason for people to obtain passive income.
Even when you're not working, you can produce something (a blog, course, ebook, videos, or an internet store) that generates income. You can also invest in passive income (real estate or equities) to earn money without having to work.
Know what makes passive income a better choice for you!
In theory, all of your sources of money are directly relevant. However, when it comes to obtaining financial independence, passive income outperforms active income.
Active income, on the other hand, is the money you get as a result of your current work. And you'll need to keep working if you want to keep making money. You will not get compensated if you quit. Your time is literally money.
Then there's the passive income. A revenue stream that does not necessitate your active participation in the workforce. And the cash keeps coming in for years and years. If you want to create a fantasy life where you are financially independent, you should concentrate on passive income.
Consider that while a small investment can help you establish a passive income stream, you're still making the same commitment as someone who invests their time. Making passive revenue equivalent to active efforts demands a significant amount of upfront effort.
How much money can you earn through passive source
You have absolute ownership over how much passive money you generate. It is not, however, a get-rich-quick scheme. To build a passive income stream, you'll need to put in some time, effort, and money at first.
Selling online is one of the largest and most lucrative industries in the world now. In 2019, retail e-commerce sales worldwide amounted to 3.53 trillion US dollars and e-retail revenues are projected to grow to 6.54 trillion US dollars in 2022 ( Source: Statistica ). eCommerce represents an incredible passive income opportunity if set up correctly. This can be a very active endeavor if not built to be passive.
The good news is that if you get these things right the first time, you can sit back and reap the financial benefits for years to come.
You can start with as little as $100 and reinvest your profits until your passive income reaches a sustainable level. You can produce enough money to live off of a large recurring income
Here we have jotted some ideas for you to relax with the idea of passive income.
Start your dropshipping store.
Dropshipping is one of the most lucrative passive income options open online. It's a wonderful place to start.
Dropshipping allows you to identify popular products on the marketplace and sell them online to clients all over the world. From fashion to home décor to beauty, you can offer products in a variety of dropshipping areas.
The beauty of dropshipping is that you can start your own business and set your own prices for the products. Dropshipping is, in fact, the passive income option on this list that gives you the most control over your money.
You can sign up for Shopify to begin dropshipping. After you've set up your online store, you can use Oberlo to identify high-quality products to sell.
Create your own course
One of the top passive income ideas for 2021 is selling online courses.
That's because course creators are still witnessing enormous sales growth. Customers would want to discover your insider tips and methods whether you sell a course on your own website or on a platform like Udemy
Selling your course on your website can help you control how much passive money you make if you've followed suggestion number two and created your own audience. It's up to you to find your customers.
If you sell on services like Udemy, this will be a little easier, but your course may be significantly reduced at times. This will have an impact on the amount of passive income you generate.
Create a print on demand online shop
Knowing that e-commerce is one of the most popular ways to generate passive money online, it's only natural to mention print on demand.
You may sell your unique graphics on t-shirts, apparel, mugs, canvases, phone covers, bags, and more using print on demand. The nicest part is that you may create your own custom-branded products.
The only restriction is that you must be skilled in graphic design because the margins are sometimes too narrow to affordably outsource the work. However, if you can come up with that one-of-a-kind winning design, your sales will skyrocket. Plus, since you won't be competing with anyone except yourself, it won't impact sales. Don't be afraid to get started right away.
Start as a Affiliate Associate
Affiliate marketing is amongst the most profitable ways to earn money online today. The good news is that almost every major company has an affiliate network, which means you can sell some really popular items and make some money.
The only major drawback is that you only get a percentage of the sale as a commission. Some affiliate schemes allow you to earn a considerable amount per referral, which is a good amount of money. Other internet businesses just offer a $5-$10 referral bonus.
So, before you get started, make sure you do some research on the top affiliate marketing programs. Blogging has been increasingly popular in recent years.
It's a completely new experience to start a source of passive income. If you've never done it before, it can also be intimidating. So you fantasize of being as wealthy as Jeff Bezos, as innovative as Sara Blakely, and as ambitious as Jack Ma.
Future you is going to dominate the world. But today you are a little bit nervous about what starting a business entails.
The truth is that we need future you now more than ever, so let's break down the obstacles to start a passive business to give you that much-needed kick.