France is one of the most popular tourist destinations in the world. But for some reason if we are talking about travelling to France in most cases we are talking about Paris. In 2019 there were 35.4 million tourists that stayed at hotels and hostels and it is not including Airbnbs. And although Paris is a great city to visit, there is so much more you can see in this country. For that reason I made a list of 5 cities to visit in France that aren't Paris.
Bordeaux
Bordeaux is a pretty famous place due to its wine chateaus all over the region. And although Bordeaux is not that far away from Paris, just a small percentage of tourists to France visit this city. There are plenty of things to do in Bordeaux that make a stay here worth it.
For those who think that Bordeaux is just farmland with grape fields, I can assure that there is so much more to this. Bordeaux is a big city with a pretty big old town that looks just fantastic. All those medieval buildings, gates, streets that you are hoping to see in France, you can see in Bordeaux. It is a perfect place to spend a few days exploring and getting lost in a maze of narrow streets, as well as checking out places where some of the finest wine in the world is made.
Wine is such a big part of the Bordeaux region that it is a crime to travel here and not visit at least one of the chateaus. Usually during your visit  to any chateau you will be offered an excursion, a history lesson about the place you chose to visit, and some explanation on how the wine is made.
After the tour, you will have a chance to do a wine tasting. What wine you will taste depends on which tour you book. There can be a collection of young (table) wines, aged (vintage) wines, or a mix of both.
Note: before going to any chateau visit their website and book the tour you want to attend, since there are not that many English tours during the week.
Marseille
Marseille is a fascinating city. It is incredibly beautiful, has a big port, and a few nice beaches, but at the same time people say that Marseille is the crime capital of France. My guess, the city has this reputation because it was one of the biggest crossroads of trade and immigration since 600 B.C. when the Greeks founded it.
Marseille ended up to be a very cute port city with tons of great restaurants and many things to do. One of them is the basilica Notre-Dame de la Garde that stands on a hill and overlooks the old port.
Another thing that you should do while exploring the old part of the city is to get some seafood. Marseille restaurants are famous for fresh, high quality seafood, so if you are into oysters, Marseille is a great place to get them.
Aix-En-Provence
Aix-En-Provence is a cute city located just a half hour train from Marseille, and to be honest I had difficulty adding it to this list over other more popular cities like Lyon or Nice. However, just because it is smaller does not mean it isn't worthy of your tourist dollars.
I originally only intended to come here for a day trip and ended up staying almost a week! Of course, there's not a whole week's worth of stuff to do, but it's just a great city to stroll around and enjoy the culture.
My favorite part of Aix-En-Provence is taking a walk to the field of the painters. The city is the birthplace of the famous impressionist painter Paul Cezanne and you can see the focus of one of his most famous paintings – Sainte Victoire.
Dijon
Everyone knows the name "Dijon" due to the famous Dijon mustard that is made in the city. Dijon is the capital of the Burgundy region located in the east of France. And of course this city is famous not just because of the mustard, but because it is also one of the most important areas for winemaking in France.
To be frank, I liked Dijon city the most. We stayed in the old part of the city which is extremely beautiful and really cozy. The historical part of Dijon city might not be one of the biggest compared to other cities, but I really enjoyed exploring it. Every time I turned around the corner I found something new and unexpected.
The city preserved many buildings that date back to the 18th century and have styles like Renaissance, Gothic, Baroque, and more. One of the highlights of the historical part of Dijon are the Burgundian polychrome roofs. Many of the buildings have colorful geometrical patterns made of green, yellow, black, and other colored tiles.
Toulouse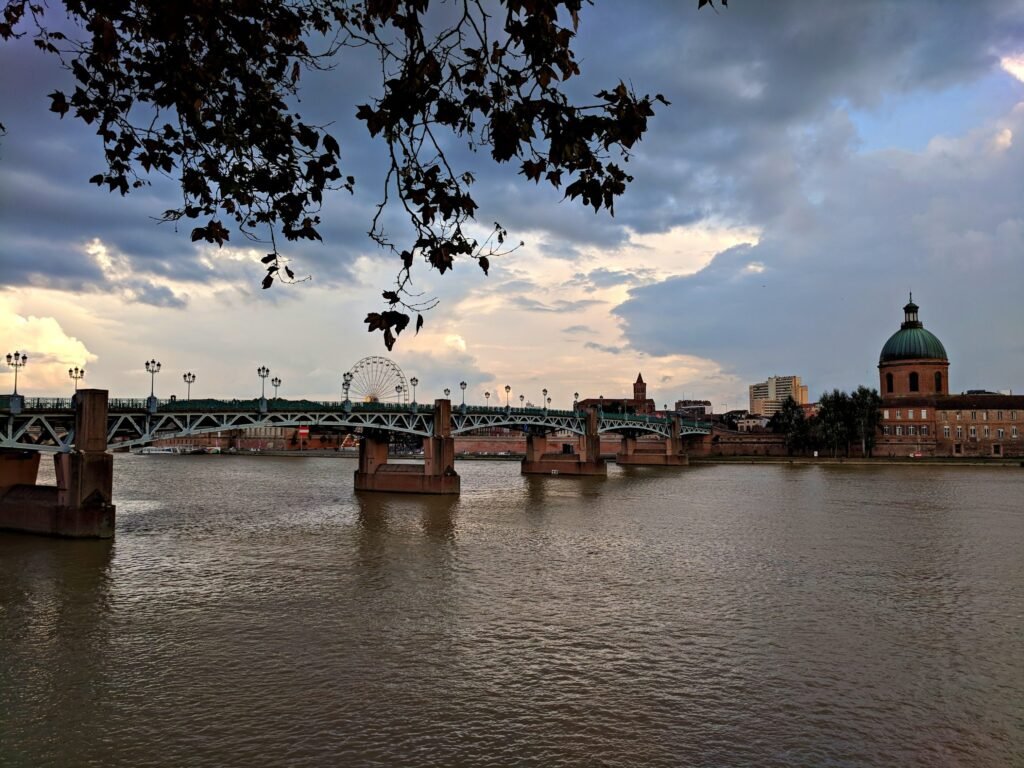 Toulouse is a city that lies next to Spanish border. The city is also known as "the pink city", due to the terra-cotta bricks that were used in most of the central buildings.
If you are looking for something that will be a nice contrast to the rest of France, Toulouse is your place. As soon as we arrived in Toulouse, I was quite surprised how different the old town in Toulouse looks to other ones I have visited. In fact, it reminded me a lot of Manchester in England with its generous use of the aforementioned brick.
The city is located on a river (like many European cities) and there's a beautiful bridge that spans it. At night you will see street musicians performing and tons of young people drinking wine or beer in the park by the river. I also highly recommend visiting the farmer's market right off the main square and picking up some amazing cheese and meat for a night in.
About the author:
Alona Tiunina is a travel blogger from western Ukraine who is on a mission to visit every country in the world. She is a big proponent of "slow travel" and enjoys spending more than just a couple days in a new city.