For most outfits, it's shockingly difficult for most women to find comfortable flats that actually look a bit special. At one time or another, one of the most cliché but real pieces of fashion advice we all come across is this: Buy at least one decent pair of flats. Heels are good and all, but flats are the shoes in which you can truly live your life. Comfort is crucial here, to use that cliché.
Flat Shoes for Women should be comfortable enough to wear in the morning and at night, cute enough to raise a standard dress, but easy enough to go in your closet with most of the pieces.
For a woman, finding a pair that blends comfort, style, and flexibility is the toughest part of shopping for Women's Flats. It does not have to involve a pair of high heels to dress up for a festive night out, a dinner party, or a fancy event. In other words, in a sensible pair of shoes, you can always look equally stylish. The only thing to remember is to ignore the styles that are boring and frumpy and go for a pair of sparkly flats.
Since they are really light, these are the flats you'll want to pack in your suitcase and you can fold them up to maximize packing space, and you can walk around in them all day long.
If you're looking for Best Woman Flats to Buy in Singapore, here is a list for you. Your feet will surely be thanking you late if you buy these.
Embellished and party-proof black. It is easy to wear these slip-one and make an effortless statement.
Silver Dazzling Gems Flats
This festive pair of Ballerina Flats suits every ensemble perfectly. It's so festive-looking that a plain black dress can be worn and you still look dressy.
You must check out this flexible style if you want some sparkles for your shoes but are not ready to go over the top. Although it's coated in glitter, it doesn't seem to be too loud and chic.
These pointed loafers are available in blue suede, leather insole, and decorative studs of sparkly gold and silver.
Gold Embellished Slingback Flats
There is a big diamond on each shoe in this pair of sleek slingback flats. You can wear this to the office and then to your party with its understated gold hue, as it exudes elegance despite the gleaming diamond detail.
Good for the workplace as well as for any fancy occasion, without looking tacky, these trendy loafers shine. At heart, for the minimalist.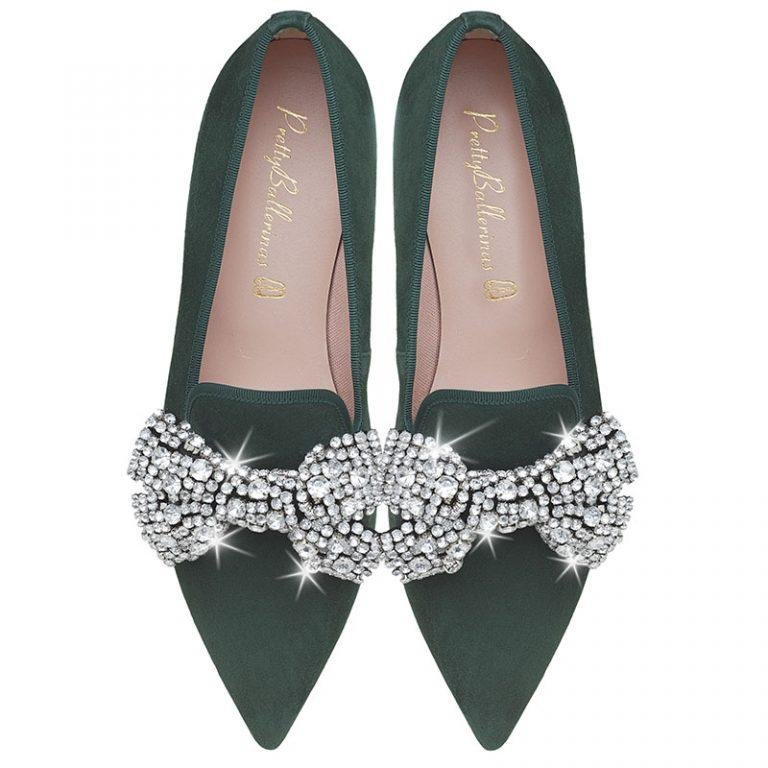 The fancy green forest suede loafers with their oversized crystal-covered bows offer every outfit a festive boost.
Champagne Bow Glitter Foldable Leather Flats
This cute pair of flats jazz up your outfit with its distinct shade for understated elegance in an instant.
All the above-mentioned Flat Shoes are the Best Woman Flats to buy in Singapore. Apart from this, Ballet Flats and slip-on espadrilles are also available in most places.
The choice of simple Ballet Flats can vary from an ugly commuter shoe to an insanely chic one. To an insanely chic something. Fortunately, few brands have resurrected these foot-clinging shoes, making them look cooler than ever and giving us plenty of excuses to say goodbye to their unattractive, strangely flexible, fold-up counterparts in your commuter tote that you store and conceal. It's time for the basic flats to be revamped and replaced by a sleek, modern take on the ballerina.
Comfort is one important element to remember. Comfort is highly determined by size. The size you select is determined by the size chart of the maker, the type of espadrille, and the comfort you are looking for.
When choosing espadrille wedges, women are most often recommended to opt for sizes slightly larger, as this will provide their feet space as it expands after being worn for an extended period of time. With your standard foot size, other styles of espadrilles such as slip-one can be picked.
It's Your Turn Now!
The Best Possible Woman Flats to buy in Singapore including Ballet Flats, Slip-on Espadrilles, and different Flat Shoes for Women have been mentioned. You just need to visit the market and grab the flats of your own choice.
For more articles visit this website